Welcome to Vancity!
Vancouver is known for its natural beauty – surrounded by snow-capped mountains and deep blue Pacific Ocean – Vancouver is a fantastic place to spend some time. With its emphasis on sustainability and liveability, Vancouver continuously ranks highly as one of the world's greatest cities. Vancouver is also famously known as "Hollywood North" for its billion-dollar film and TV industry (we're betting many of your favorite movies and TV shows are/were filmed in and around Metro Vancouver!).
But first, there are a few things you need to know when traveling to Canada, and specifically to Vancouver. Read these handy travel tips and our CanVanFAQ below for information to help make your travel arrangements.
---
Travel and Accommodation
Currency
Plugging in your electrical devices
Languages
Cannabis
Weather
Hockey
Things to Do
---
Travel and Accommodation
Do I need a visa to come to Canada?
You might. Most people need a visa OR an Electronic Travel Authorization to travel to Canada – not both. Some people may only need their valid passport. Please visit the Immigration Canada website for more information, and consult the immigration authority of your own country before purchasing tickets or registering for the conference. The process can take a few weeks so start your application early.
How do I get to Vancouver?
Vancouver is a ~30min taxi ride from YVR Vancouver Airport. Taxis, which are available just outside the airport, charge different flat rates to take you to different parts of the city. The trip from the airport costs $35 to get downtown. Alternatively, you can also take the Canada Line on the SkyTrain, which takes ~26 minutes, and costs $9.25. To use Vancouver's public transit system, you can purchase a reloadable Compass Card – which can be used for trains, buses and the Seabus – at any Translink station. Touchless enabled credit cards can also be used to pay for public transit. Rental cars are also available at the airport.
Please consult the Translink website for more information about getting around Vancouver by public transport.
How do I make hotel reservations?
While there is no special discounted price for accommodation at GMI13, there are a number of hotels near the conference venue. Please see the select list of hotels below. See the locations of these hotels here. Early booking is recommended.
---
Currency
Do they accept American dollars in Canada?
We have our own currency – the most excellent Canadian dollar (CAD)! You can exchange currency at YVR Vancouver Airport, or other locations around the city. Most vendors accept major credit cards. Public transportation (buses, skytrains) also accept contactless (tap) credit card payment.
---
Plugging in your electrical devices
Do I need a power adapter in Canada?
In Canada, the standard voltage is 120 V and the standard frequency is 60 Hz. Also, there are two types of power plugs and sockets. If your plugs don't look like the ones below, you'll need a travel adaptor.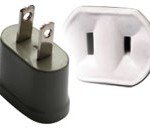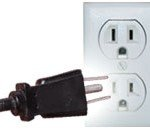 For more information on power conversion, check out this handy website.
---
Languages
I heard you all speak French in Canada, is that true?
Canada's official languages are English and French. Federal agents (like security and other airport staff) speak both languages, however, most people in BC will speak English. Canada is a very multicultural country so many Canadians speak different languages as well. Depending on where you travel in BC, you may even see signs in Indigenous First Nations languages!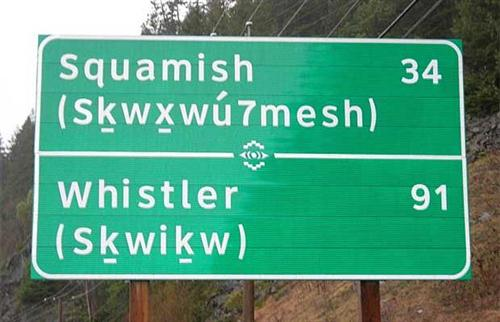 ---
Cannabis
I heard weed is legal in Canada, is that true?
Yes, cannabis (marijuana) is legal all across Canada, and small quantities can be legally purchased and consumed. If you are not a Canadian resident, DO NOT take cannabis or a cannabis-containing souvenir home with you. For more information about cannabis in Canada, get the facts here.
---
Weather
I heard it rains all the time in Vancouver. What should I bring?
They don't call in Raincouver for nothing. But that rain helps feed our temperate rainforests and spectacular giant old growth trees. The average temperature in Vancouver in September is 12-19oC, but it can be highly variable. We recommend bringing clothes for warmer and cooler temperatures. Bring a light jacket or sweater for the evenings when the sun goes down and it gets cool. Don't forget to check the weather forecast before you pack. And always bring an umbrella.
---
Hockey
Can I watch a hockey game while I'm in Vancouver for GMI?
We probably should have answered this question first…
The regular season has not started yet. You'll have to visit us at another time to catch a game!
---
Things to Do
What should I do while I'm in Vancouver?
The fun stuff! There are lots of attractions and things to do in Vancouver and its environs. Here's a brief list of where we take our family and friends when they come to visit:
Attractions
| | |
| --- | --- |
| Stanley Park | seawall, forest trails, beaches, the Vancouver Aquarium, the Stanley Park train, totem poles, rose garden, and more! |
| Granville Island | public market, shops, harbour walk |
| Gastown | Vancouver's oldest neighbourhood, steam clock (the most photographed thing in Vancouver!), Gassy Jack, shops and restaurants |
| Dr. Sun Yat-Sen's Classical Chinese Garden | Ming Dynasty-era garden |
| Queen Elizabeth Park | highest point in Vancouver (because it's a dormant volcano), botanical garden, conservatory (birds and shrubbery, if you like that sort of thing), restaurant |
| Beaches | we got lots of 'em! |
Food and Drink